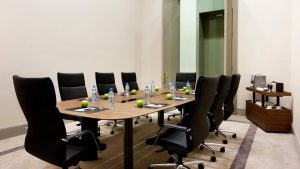 Conferences and meetings play an important role in tourism business. Gatherings like conferences, symposia, forums, assemblies and others require careful preparation and a specific array of services. Our experienced staff offers the complete range of these services to associations, local and international agencies, government and inter-governmental organizations, various counterparts.
Our services include:
Discussions and consulting at every phase of your event;
Accommodation in hotels of any category for groups and FIT at any time of the year;
Reservation of venues and spaces that correspond to your event;
Specific tours planned in accordance with the client's interests;
Providing high level transportation;
Organization and coordination of events, entertainment and art performances;
Branding of the conference in accordance with the client's requirements;
Incentive programs and implementation of indoor and outdoor programs;
Accompanying conference services: interpretation/translation, preparation of conference materials, copying, distribution, etc.
Provision of technical equipment required for the conference;
Catering services;
Security services for your VIP guests;
Individually tailored tours in accordance with special interests;
Additional services: illumination, fireworks, gifts, promotional items;
Post-conference summation: compilation of feedback and statistics, working with documents and sending of documentation;
Specifically developed pre- or post-conference tours and much more.
The employees of DESTINATION GEORGIA will expend all their experience and knowledge to organize a conference or event that meets your most stringent requirements. We cooperate with our clients at all stages of meeting or conference. We can offer city packages, sightseeing and educational excursions, custom tours and special excursions, private entry to exclusive venues not available to the general public. Pre- or post-conference tours can be organized with theme parties, team games, feasts, sightseeing and client appreciation events that may be connected with the conventions held in Georgia. Appreciation of every client, attention to every detail, demand orientation, and professional ethics are the fundamental principles of our work.