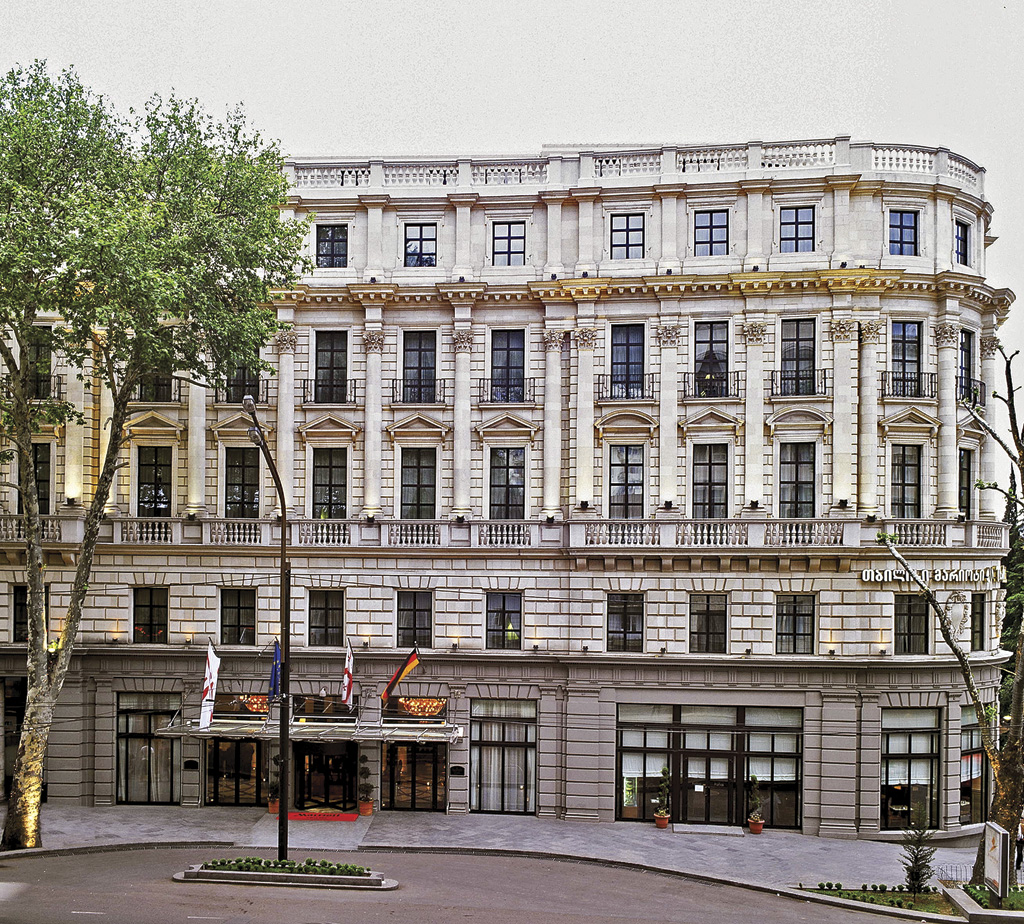 Rustaveli Avenue 13
Tbilisi 0108, Georgia
www.marriott.com/hotels/travel/tbsmc-tbilisi-marriott-hotel
LOCATION AND ACCOMODATION
Marriott Tbilisi Hotel is situated in the heart of the city's business and cultural center, near the Parliament, various museums, the Opera House and Rustaveli Theatre. It comprises the shell of the historic Hotel Majestic built in 1915 and known as one of the landmarks of Tbilisi. In Soviet times this hotel has hosted a number of renowned guests, among which John Steinbeck, Jean Paul Sartre, George Balanchine, Sir Fitzroy Maclean (prototype of British Agent 007), Margaret Thatcher and many others. In 1939 the hotel was reopened as Hotel Tbilisi. During the Civil War in 1990, the hotel building was a military stronghold for the opposition and was dramatically damaged by gunfire. The hotel was restored and reopened as Tbilisi Marriott in 2002.
Tbilisi Marriott Hotel offers 127 luxurious rooms including 60 Deluxe Rooms, 25 Superior Rooms, 25 Executive Rooms, 6 Club rooms, 6 Junior Suites, 2 Patio Suites, 1 vice Presidential and 2 Presidential Suites. There are both smoking and nonsmoking rooms, air-conditioned, equipped with color TV featuring satellite programs and in-house movies, direct-dial telephone, work desk, high-speed Internet connection, in-room safe, mini-bar, bathrobes, hairdryer, make-up mirror and complimentary toiletries, safety entrance cards, etc. In addition, there is 24-hour bank operation, porter service, daily maid service, room service, laundry and dry-cleaning. The hotel provides a fully equipped Business Center for business travelers. The Health Club is fitted with the latest paraphernalia in health technology, sauna and massage rooms.For banquets, conferences, business meetings and social functions Tbilisi Marriott Hotel provides a wide choice of venues, for small groups of five and larger gatherings of up to 250 persons. With more than 600 square meters of first-class highly flexible entertainment and conference facilities and a specialized team dedicated to the success of every event, you will find that Tbilisi Marriott strives to ensure the success of your endeavors.
Enjoy delicious meals and drinks at the restaurants and bars of Marriott Tbilisi Hotel. Located on the ground floor, Majestic Lounge
and bar offers a wide selection of finest coffees and world famous teas. In Parnas Café, Lounge and Restaurant and the outdoor patio guests can enjoy delicious meals of French cuisine and Burgundian, in particular. Executive Lounge offers healthy breakfast in the morning, light snacks during the day and access to newspapers, magazines and wireless Internet.